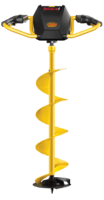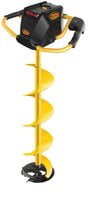 Jiffy Rogue Electric Ice Auger - 8"
Drill 25% More Ice on a single battery charge!
80V 1300 Watts of pure adrenaline!
500 RPM Shaft Speed - highest output speed!
Industry's Only 2-speed Motor - Turbo & High Icehouse!
This item is available online for In Store Pick-Up only.
Shipping is available - Call before placing order.
Order Cancellation is subject to restocking fee.
All Steel Gear and Ball Bearing Transmission




Rapid Charge 80v 2.5Ah Battery

Fully Charged in 1-Hour

20 lbs of Lightweight Steel

Military Grade Aluminum handles -

Ergonomically Engineered for more control

High-Strength Steel Hex Shaft

Right Hand Rotation

USB Charge Port in Battery

Wide LED Dome Lighting for Night Drilling

Available in 8" / 10"

5-Year Warranty

2-Year Battery