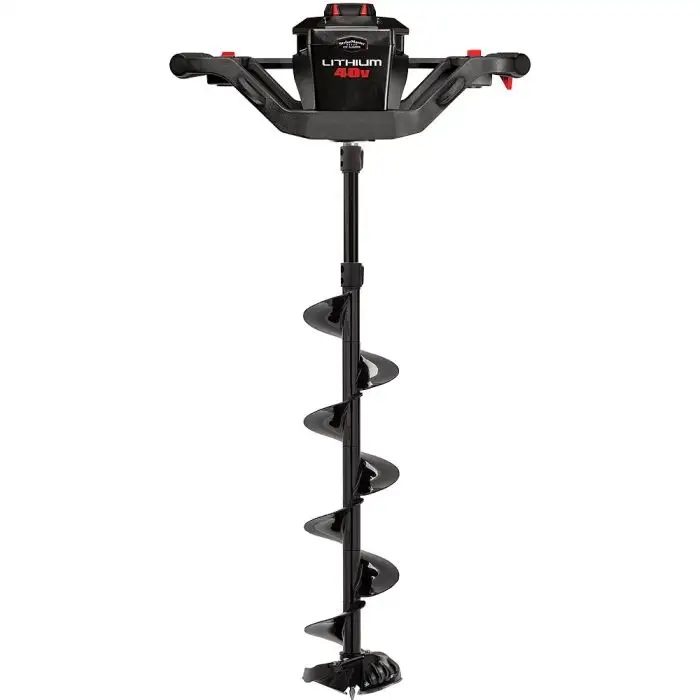 Strikemaster Lithium 40V Lite Auger - 8"
The StrikeMaster Lithium 40v Lite Ice Auger has been lightened up and features the Lite-Flite Lazer Drill unit for run and gun fishing. Plus the combo has been upgraded by including the new Lite-Flite Lazer Magnetic Snap Cover. You will no longer have to bend over or turn the auger to get a blade guard on and off.
This item is available online for In Store Pick-Up only.
Shipping is available - Call before placing order.
Order Cancellation is subject to restocking fee.
Powerhead/Motor
Electric DC Brushless Motor

Planetary gear system/ 15.9:1 gear ratio

Power button has a deadman safety switch

Forward and Reverse function

LED Lights

Impact-resistant handles

Battery
40-volt, 5 amp-hour lithium-ion battery

Internal battery system for longevity

4 LED battery life indicator

USB port charges all portable electronic devices

2-amp rapid charging station

5-amp Battery

Built in Cell Optimization

Smart Charging

Wall Mountable

Lite-Flite Lazer Drill Unit
Proprietary synthetic resin molded flighting

Twin serrated stainless steel Lazer blades

Full length segmented flighting

Carriage is formed with exclusive compounds

Reinforced T connection to carriage with heavy-duty steel hex shaft

Power Point keeps the drill unit in place during drilling

Lite-Flite Lazer Magnetic Snap Cover Blade Guard