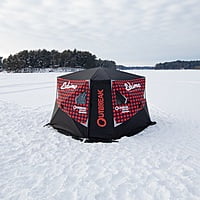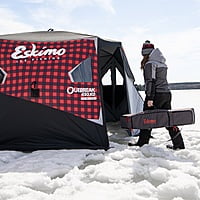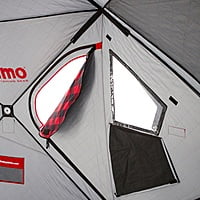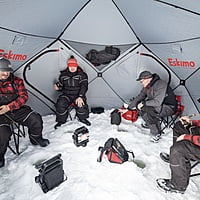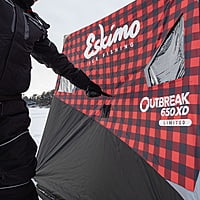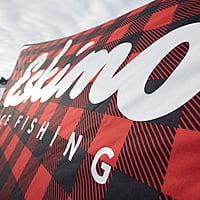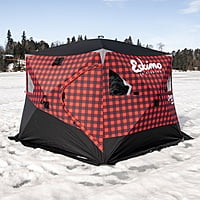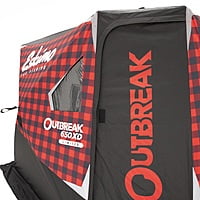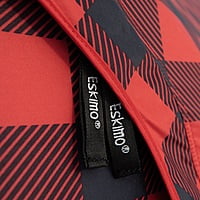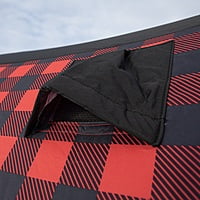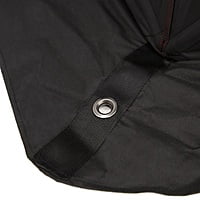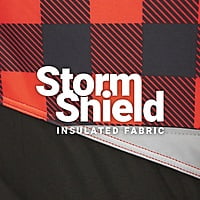 Eskimo Outbreak 650XD Limited Shelter
The Outbreak 650XD Limited features a plaid colorway of StormShield™ insulated fabric, unique to Eskimo. Like other Outbreak shelters, the original "No Trip" door panel zips open from ice level, clearing the way for fast and efficient entry into the shelter. Loading and unloading becomes quicker and easier, leaving nothing for you to catch a boot on when stepping through. The 650XD Limited is tough, durable, and incredibly warm, providing a spacious and comfortable experience with 94 square feet of fishable area. The gray interior helps with visibility inside the shelter, providing a bright and convenient backdrop against snow and ice. This shelter is packed with features that are perfect for enjoying a day on the ice.
| | |
| --- | --- |
| Height | 84" |
| Weight | 52 lb. |
| Insulation | Fully-Insulated |
| Fabric | StormShield™ |
| Interior | Gray |
| Carry Bag | Included |
| Ice Anchors | 9 |
| Grommets | In-Skirt |
| Tie Downs | (3) Deluxe Cam Strap |
| Ventilation | 3 |
| Windows | 8 |
| Doors | 2 |
| Gear Nets | 2 |
| Mesh Pockets | 3 |
| Zippers | YKK® |
| Warranty | 1-Year Limited |
This item is available online for In Store Pick-Up only.
Shipping is available - Call before placing order.
Order Cancellation is subject to restocking fee.
ESKIMO LIMITED SERIES
Features a special limited edition plaid styling in StormShield™ insulated fabric.
Features an oversized door panel that zips up from ice-level, leaving nothing to trip over when going in and out with your gear.
Flared, wide-bottom panels provide spacious fishable area, with room to spread out or accommodate a large group. Great for ice camping.
STORMSHIELD™ INSULATED FABRIC
Three-layer bonded fabric with 80g of high-loft insulation creates a robust barrier against the elements, maximizing warmth retention in the shelter and reducing condensation.
Brightens the interior by not absorbing light, making it easier to see what you're doing.
Features an all-metal ball and socket design with thick fiberglass poles.
Deluxe cam strap tie-downs are included, for rugged anchoring in windy conditions.
Large grip, with a sharp, self-tapping point and easy to use screw-in style that makes installation by hand a breeze.
24260 – Deluxe Strap Kit
69138 – Ice Anchors (2-Pack)
43416 – Anchor Install Adapter
30611 – Shelter Coat Hooks
41941 – E-Hub Phone Holder
41942 – E-Hub Rod Holder
41945 – E-Hub Table
41944 – E-Hub Rattle Reel
41943 – E-Hub Flex Arm
41974 – E-Hub Base (2-Pack)